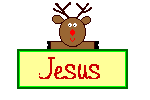 Welcome to our Christmas Home Page... Christmas is our most favorite time of the year and we
hope that it is yours too!!! Let us not forget the real meaning behind Christmas, The Birth of our
Lord and Savior Jesus Christ... He is the Reason for the Season...Let us also remember that it
is not the gift, but the thought behind it that really counts.. We hope you and yours has a very merry Christmas this year and a Very Happy New Year!!!! Stay as long as you like and have a Merry Christmas....